District Medical Group (DMG) is a non-profit, integrated medical group consisting of more than 650 credentialed providers representing more than 50 medical and surgical specialties and sub-specialties. Dedicated to improving the health and well-being of individuals in Arizona, DMG maintains a balanced program of patient care, education, research, and community service.
Professional clinical services encompass all physicians and mid-level providers staffing a multitude of DMG and Valleywise Health facilities across Maricopa County, including a 450-bed acute hospital, three inpatient behavioral health centers, an outpatient specialty center, 11 family health centers, two emergency departments, the internationally-recognized Arizona Burn Center, and many unique and effective outreach programs. In collaboration with Valleywise Health, we provide care for more than 450,000 patients annually.
DMG is a trusted partner in training future healthcare providers in Arizona and has more than 220 residents in nine programs and 60 affiliated programs training with DMG physicians in Valleywise Health locations. DMG is also a founding partner in the Creighton University Arizona Health Education Alliance which aims to increase the number of physicians and other health professionals in Arizona by improving and expanding current health education programs.
With more than 25 medical specialties on-site, DMG Children's Rehabilitative Services is the largest multi-specialty interdisciplinary clinic in the state of Arizona and is designed to meet the unique healthcare requirements of special needs children. In addition, DMG includes five primary care locations providing care to patients of all ages throughout the Valley, including Anthem, Peoria, Mesa and Tempe.  Through these corporate clinics, DMG directly provides care to the community with more than 70,000 patient visits annually.
DMG prides itself on clinical excellence. More than 95% of DMG physicians are Board Certified. Patient satisfaction surveys consistently rate the physician performance above the national average.
DMG providers have garnered both local and national acclaim for their contributions. Recognized as innovative leaders in medicine, DMG providers are named as Phoenix's "Best Doctors" consistently, serving on advisory boards, appointed to governors' councils, and elected to top leadership positions in national association.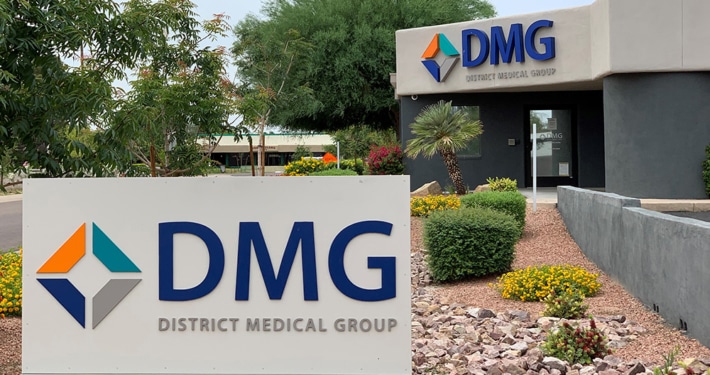 "We are thrilled to expand our footprint to serve residents and visitors of Scottsdale and Tempe by providing primary care services by appointment as well as walk-in care," said Kote Chundu, MD, President and Chief Executive Officer of DMG.
https://www.dmgaz.org/wp-content/uploads/2021/06/papago-sign.jpg
722
1000
District Medical Group
https://www.dmgaz.org/wp-content/uploads/2020/01/phoenix-medical-group2.png
District Medical Group
2021-06-14 10:00:19
2021-06-14 12:02:54
District Medical Group Opens Primary Care Clinic to Serve Scottsdale and Tempe Residents & Visitors
Career Opportunities at District Medical Group
District Medical Group is well known as one of the leading and most respected healthcare organizations in the Phoenix area, with a reputation for outstanding leadership, innovation and dedication to the patients and community we serve. We employ over 650 credentialed providers and over 350 professional and administrative staff, and are the largest physician group in the Valley.
We offer an environment that ensures our employees are empowered to make a difference, with highly competitive salaries and an excellent package of benefits.
If our mission, values and commitments describe an organization that appeals to you, please check our job postings listed herein. You may also send us your CV and information to keep on file, in case there is an opening that fits your qualifications.
DMG does not discriminate against any applicant for employment because of race, creed, color, religion, gender, sexual orientation, gender identity/expression, national origin, disability, age, or covered veteran status. District Medical Group participates in the E-Verify program to confirm the identity and employment eligibility of all person(s) hired to work in the United States.